Blues Moon Radio - 4/25/17
Tonight's Blues Moon Radio show features songs about May, because I won't be on the air that month.
Papa Jazz Record Shoppe
''s Artist of the Month:
Muddy Waters
Word of Mouth Productions
' Artist of the Week:
Shawn Holt and The Teardrops
South Carolina Blues
' Artist of the Week:
Elliott and the Untouchables
...
We have some special announcements:
Webb Wilder Returns Friday April 28!
- Ticket giveaway on air and via
Blues Moon Radio
page.
Bluz Shak Benefit
- info about
Rick Marsh
and his private jam and how you can help keep local Blues alive.
Tune in tonight - Tuesday 6-8 p.m.
www.wusc.sc.edu
if streaming worldwide or
WUSC FM Columbia
90.5 for our neighborhood listeners.
Playlist:
We won't be on the air in May - Look for us the first Tuesday in June - we'll feature Howlin' Wolf!
See you at the Webb Wilder show hosted by
Richland Post 6 American Legion, Columbia, South Carolina
... and for those who are not hep to what WW is puttin' down:
Born more than 60 years ago in Hattiesburg, Webb Wilder is not mature. He is the last of the full-grown men, and the last of the boarding house people. He is a unique presence among the peasants. He is a force for good, and a friend to animals.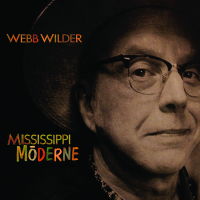 And he has just made an album of uncommon uncommonness, of unusual unusualness.
Mississippi Moderne
. Again, pronounce it however you like. The main thing is to listen, and in your listening you shall hear a marvelous encapsulation of things right and righteous, wistful yet wild, strange at times but always strong. Garage rock and bluster blues. Fuzz-tone and fury, and, in many ways, a full and unbroken circle back to the days when Webb Wilder was a boy possessed of the mind of a full-grown man, listening to The Kinks and The Move, an Anglophile in Mississippi.
Above taken from his bio... and now we know why we've loved him so long and hard - he also adores the Kinks - my favorite band. Salute!
Take care -
Clair DeLune and RockyDawg